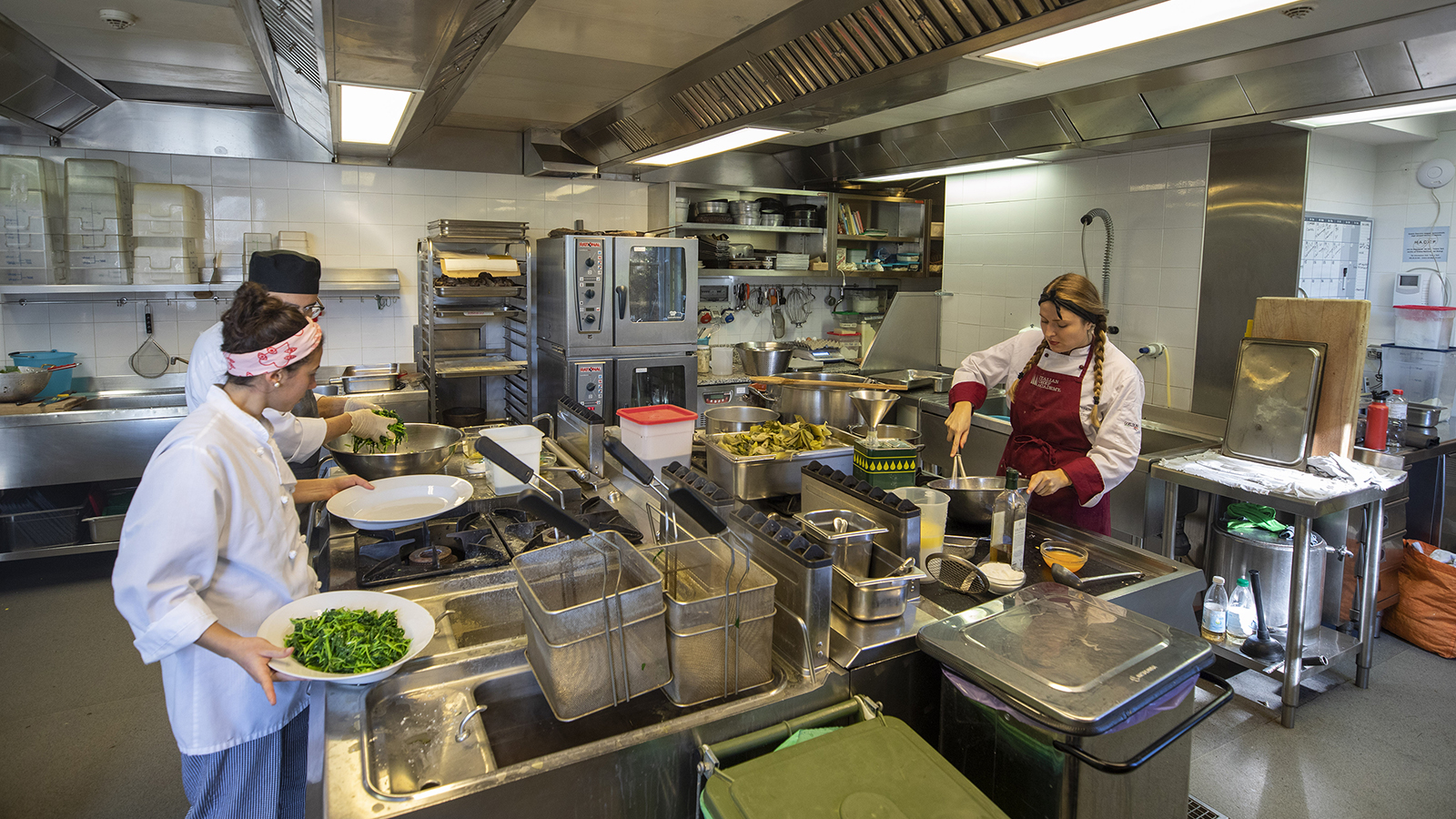 The deadlines to apply for the 2023–24 Rome Sustainable Food Project internship program (Sessions I and II) have passed. Please check back in early 2024 for information about the 2024–25 internship programs.
Overview
The Rome Sustainable Food Project is at once a production and teaching kitchen whose daily success relies strongly upon a team of interns and visiting cooks. Living and training in Rome for a period of five-and-a-half months, they learn alongside an American and Italian kitchen staff to cook for the Academy community.
The teaching philosophy of RSFP chefs takes root in a practical, hands-on approach to learning. By "diving in" to the busy workday of a professional kitchen, interns learn to prepare seasonal produce with a multitude of techniques. In so doing, they gain extensive knowledge in Roman and Italian culinary practices, as well as practical experience cooking for large groups in the style of a banquet. Twice daily menu meetings are an essential part of the internship education: in them, interns receive their assignments from the chef and learn the history of a dish and its preparation from start to finish.
RSFP interns have varied experience and come from diverse backgrounds. From cooks with substantial professional experience to culinary school students and food-interested individuals with other forms of education, they are committed to practices of sustainability and the experience of life in a professional kitchen. Most interns are also interested in Italian food and culture. It is essential that interns contribute to the teamwork that makes the kitchen run, especially at times when the work is fast-paced and intense.
How It Works
Interns train on average forty hours per week with two full days off.
Schedules may vary week to week so that interns have the opportunity to train both morning (between 7:00am and 4:30pm) and evening (between 12:30 and 10:00pm) shifts. Shift times, however, do vary with a given day's work load and interns are expected to contribute as needed.
Intern responsibilities include: cooking, cleaning, composting and recycling kitchen waste, organizing inventory (to name a few). Interns become involved in practically every aspect of the working kitchen. As interns are increasingly experienced, they take full responsibility for dishes from prep to plate.
The first few weeks of the internship are a period of transition and immersion into a new environment. Interns get to know the staff and a new kitchen, as well as learn the basics of the schedule, local ingredients, kitchen systems, and the rhythm of the work day. The hope is that interns will become familiar with the ins and outs of the RFSP after finishing their first two weeks with the program.
Thereafter, they will meet with Head Chef Fausto Ferraresi for a review of their work on a regular basis. These meetings are intended as shared dialogues and provide the chefs as well as the interns with an opportunity to chart progress and define goals for the internship period. At any time, an intern can schedule a meeting with the head chef to discuss his progress or any matters of concern.
The RSFP internship position is paid with a small benefit. For some of the internship slots, room and board are provided.
The visiting cook position is unpaid. Room and board are not provided.
Considerations
Culture shock is understandable and to be expected, so allowing oneself time to settle in to the Academy prior to beginning the internship is generally a good idea.
Interns are encouraged to begin learning Italian before their arrival in Rome—an open-minded attitude toward the acquisition of a new language is a must. Working in a professional kitchen is fast paced and can feel hectic and often physically and mentally challenging.
Interns are trained to work efficiently and, most importantly, to be present and conscious in all aspects of the life of a professional chef. The work schedule is rigorous and while interns are encouraged to explore Rome as much as possible in their time off, extensive travel throughout Italy and Europe is generally discouraged during the internship period itself. Many interns opt to travel before they arrive or after they depart. Allowing oneself to be fully immersed in the RSFP, in life at the Academy and in the culture of Rome at large is hugely beneficial to a positive internship experience.
Interns and visiting cooks interested in bringing spouses or partners are required to live offsite, as the Academy has limited accommodations. Please be aware that the RSFP cannot provide living stipends to cover offsite housing costs. In the past, we have found that the internship experience is significantly altered by the presence of one's spouse or partner. Some have encountered challenges in balancing the demands of work and their relationship in this particular context.
The RSFP internship provides interns and visiting cooks with a unique opportunity to become well-acquainted with the city of Rome and the rhythm of Roman life. The Academy is situated on the Janiculum Hill in the Monteverde neighborhood and directly adjacent to the historic neighborhood of Trastevere.
How to Apply
There are two internship periods available every academic year. All internships are usually five-and-a-half months.
In order to accommodate a smooth transition, interns may be asked to arrive and/or depart on alternative dates and will be advised in advance.
Please apply online using the link below. The following documentation will be required:
Letter of introduction (your written statement describing why you would be suited for the internship)
Résumé or CV
Passport photo
Photocopy of passport or carta d'identità
A medical note from your primary physician that shows you are physically and psychologically able to undertake an internship in a professional kitchen abroad
In addition, applications must include two letters of reference from either current or past employers or teachers.
Internship Dates and Deadlines
Session I
August 24, 2023–January 19, 2024
Application deadline: March 23, 2023
Applicants notified: mid-May 2023
Session II
January 22–July 12, 2024
Application deadline: September 1, 2023
Applicants notified: mid-September 2023
Selection Process
The Rome Sustainable Food Project receives far more applications for internships than it can absorb for the three internship slots and is thus unable to accept all qualified and enthusiastic applicants. In selecting interns, the RSFP pays close attention to the group being assembled, as interns work together closely. It is the RSFP's priority to create a dynamic environment in the kitchen that reflects the interdisciplinary nature of the Academy itself. Therefore, each group of interns, visiting cooks, and volunteers is comprised of individuals with professional culinary experience as well as those with backgrounds in, but not limited to, food journalism, organic farming, sustainable food politics, Italian food culture and history, et cetera. Depending on the intern cohort, some preference may be given to applicants with significant prior cooking experience.
Timeline
Applicants will receive confirmation once their application is complete and has been processed. The results of the selection will be sent after a month after the submission deadline.