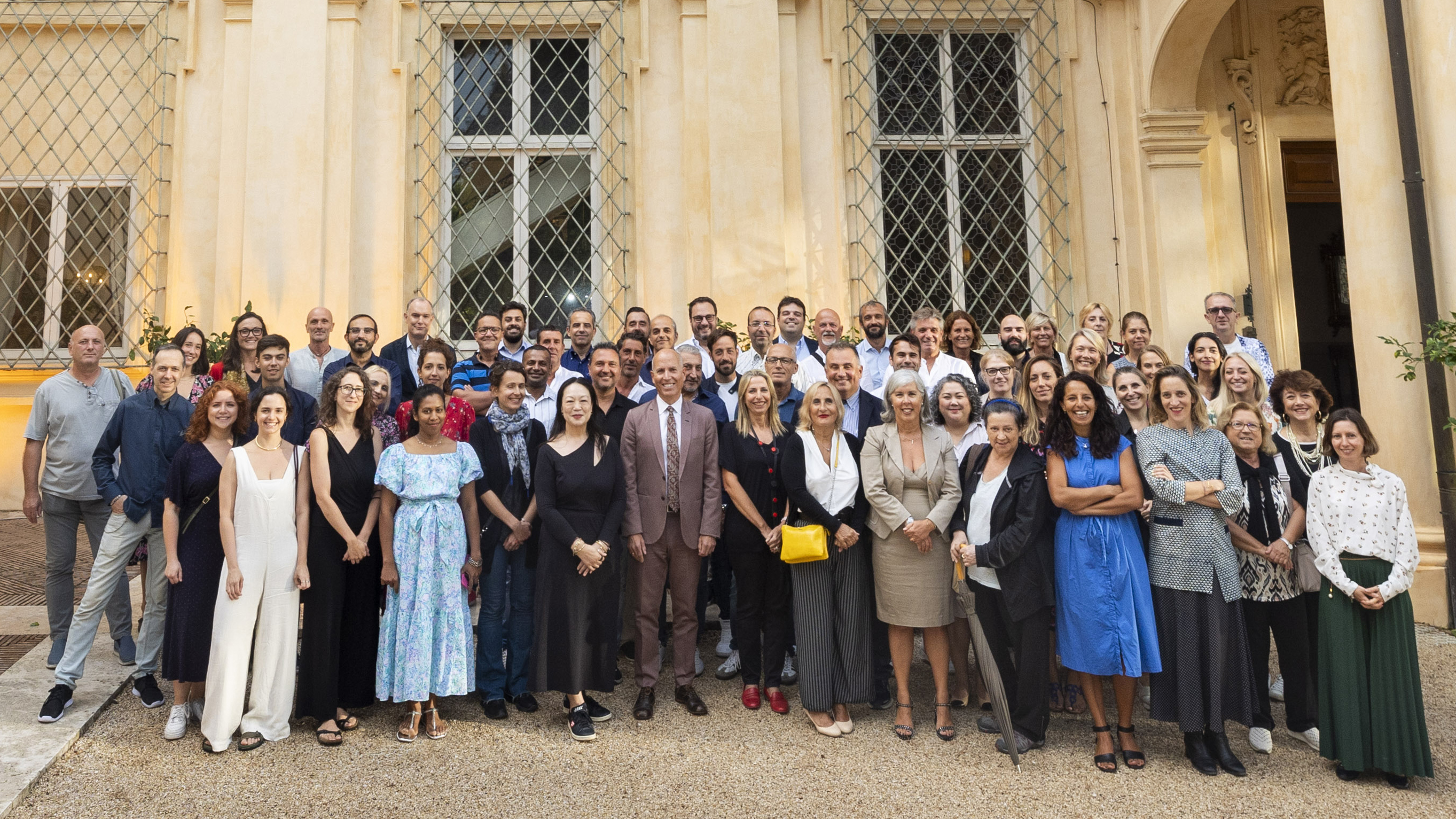 Locations
The Academy is a private residential community located on the Janiculum Hill in Rome, Italy. AAR also maintains an office in New York, at 535 West 22nd Street in Chelsea, near the High Line.
New York Office
The Academy's office in New York conducts the annual Rome Prize competition, maintains Trustee relations, and manages the Academy's financing and fundraising efforts. The New York office also organizes the Rome Prize Ceremony and annual events that benefit the American Academy in Rome.
Leadership
Peter N. Miller
President
pn.miller [at] aarome.org
Administration
Siobhan O'Grady
Administrative Support Manager
s.ogrady [at] aarome.org
Camila Saavedra
Executive Assistant to the President
c.saavedra [at] aarome.org
Archives
Catie Heitz
Archivist
archives [at] aarome.org
Communications & Programs
Andrew Mitchell
Director of Communications
a.mitchell [at] aarome.org
Shawn Miller
Program Director
s.miller [at] aarome.org
Christopher Howard
Communications Manager
c.howard [at] aarome.org
Jacob Rivers
Curatorial and Programs Manager
j.rivers [at] aarome.org
Development
Sally Benner
Chief Development Officer
s.benner [at] aarome.org
Elizabeth Harris
Director of Development
e.harris [at] aarome.org
Cristina Bianchi Nixon
Manager of Board Relations
c.bianchi [at] aarome.org
Rachael Edmonston
Senior Operations Coordinator
r.edmonston [at] aarome.org
Eve Orenstein
Senior Manager of Development, Special Events
e.orenstein [at] aarome.org
Dinah Seiver
Special Projects
d.seiver [at] aarome.org
Micah Trippe
Associate Director of Institutional Giving
m.trippe [at] aarome.org
Finance
Tara Mia Paone
Chief Financial and Administrative Officer
t.paone [at] aarome.org
Franca Gaudio
Controller
f.gaudio [at] aarome.org
Medalid Soto
Senior Accountant
m.soto [at] aarome.org
Rome Office
A list of Rome office personnel by department is below.
Leadership
Aliza Wong 
Director 
a.wong [at] aarome.org
Administration
Sara Argentieri 
Deputy Director for Finance and Administration 
s.argentieri [at] aarome.org
Anne Coulson 
Deputy Director for Programs and Fellowships
a.coulson [at] aarome.org
Marina Lella 
Executive Assistant to the Director 
m.lella [at] aarome.org
Programs
Marla Stone (1996 Fellow) 
Andrew W. Mellon Humanities Professor 
m.stone [at] aarome.org
Ilaria Puri Purini 
Andrew Heiskell Arts Director 
i.puripurini [at] aarome.org
Giulia Barra 
Stephen Kieran & James Timberlake Permissions Associate and Programs Associate 
g.barra [at] aarome.org
Lexi Eberspacher 
Programs Associate for the Arts 
l.eberspacher [at] aarome.org
Tina Cancemi 
Programs Associate for Special Events and External Affairs 
t.cancemi [at] aarome.org
Laura Cabezas 
Communications Assistant
l.cabezas.int [at] aarome.org
Residential Services
Gianpaolo Battaglia 
Manager of Residential Life
g.battaglia [at] aarome.org
Sofia Ekman 
Residential Life Associate
s.ekman [at] aarome.org
Fabiana Ciccone 
Family Life Assistant
f.ciccone [at] aarome.org
Claudia Tonetti 
Services Coordinator 
c.tonetti [at] aarome.org
Development
Inga Clausing 
Senior Development Officer 
i.clausing [at] aarome.org
Business
Fabrizio Lucati 
Senior Accountant 
f.lucati [at] aarome.org
Giovanna Pazzini 
Senior Cashier
g.pazzini [at] aarome.org
Library and Archives
Sebastian Hierl 
Drue Heinz Librarian 
s.hierl [at] aarome.org
Paolo Brozzi 
Library Assistant 
p.brozzi [at] aarome.org
Denise Gavio 
Assistant Librarian 
d.gavio [at] aarome.org
Kristine Iara 
Classical Studies Librarian 
k.iara [at] aarome.org
Paolo Imperatori 
Assistant Librarian 
p.imperatori [at] aarome.org
Tina Mirra 
Acquisitions Assistant 
t.mirra [at] aarome.org
Lavinia Ciuffa 
Curator, Photographic Archive 
l.ciuffa [at] aarome.org
Valentina Follo 
Curator, Norton-Van Buren Archaeological Study Collection 
v.follo.ext [at] aarome.org
Buildings and Maintenance
Tommaso Musa 
Head of Maintenance 
t.musa [at] aarome.org
Giorgio Cei 
Cristophe Dell'Ospedale 
Fares Mountassir
Gate Reception
Luca Zamponi 
Head Gatekeeper 
l.zamponi [at] aarome.org
Riccardo Palma 
Gatekeeper 
r.palma [at] aarome.org
Housekeeping
Fabrizio Lambiti 
Head of Housekeeping 
f.lambiti [at] aarome.org
Luana Di Marzio 
Wenura Manathrige 
Fabio Stocchi 
Elena Tinaburri
Grounds
Alessandra Vinciguerra 
Bass Superintendent of Gardens 
a.vinciguerra [at] aarome.org
Marco Casani 
Head Gardener, Villa Aurelia 
m.casani [at] aarome.org
Luigi Cocozza 
Head Garden, MMW Building and Bass Garden
l.cocozza [at] aarome.org
Bruno Crocicchia 
Enzo Donati 
Andrea Francini
Rome Sustainable Food Project
Fausto Ferraresi 
RSFP Head Chef 
f.ferraresi [at] aarome.org
Sara Levi 
RSFP Sous Chef 
s.levi [at] aarome.org
Giorgia Lauri 
Chef
g.lauri [at] aarome.org
Valentina Montrone 
Chef 
v.montrone [at] aarome.org
Gabriel Soare 
Bartender 
g.soare [at] aarome.org
Tiziana del Grosso 
Wait Staff 
t.delgrosso [at] aarome.org
Alessandro Lima 
Wait Staff 
a.lima [at] aarome.org
Andemariam Kidane 
Dishwasher 
a.kidane [at] aarome.org
Tesfaldet Libsekal 
Dishwasher 
t.libsekal [at] aarome.org
Tewolde Woldekidan 
Dishwasher 
t.woldekidan [at] aarome.org
Villa Aurelia
Paola Gaetani 
Manager of Villa Aurelia
p.gaetani [at] aarome.org
Dario Intorrella 
Assistant to the Manager 
d.intorrella [at] aarome.org
Yvonne Wijemuni 
Housekeeper