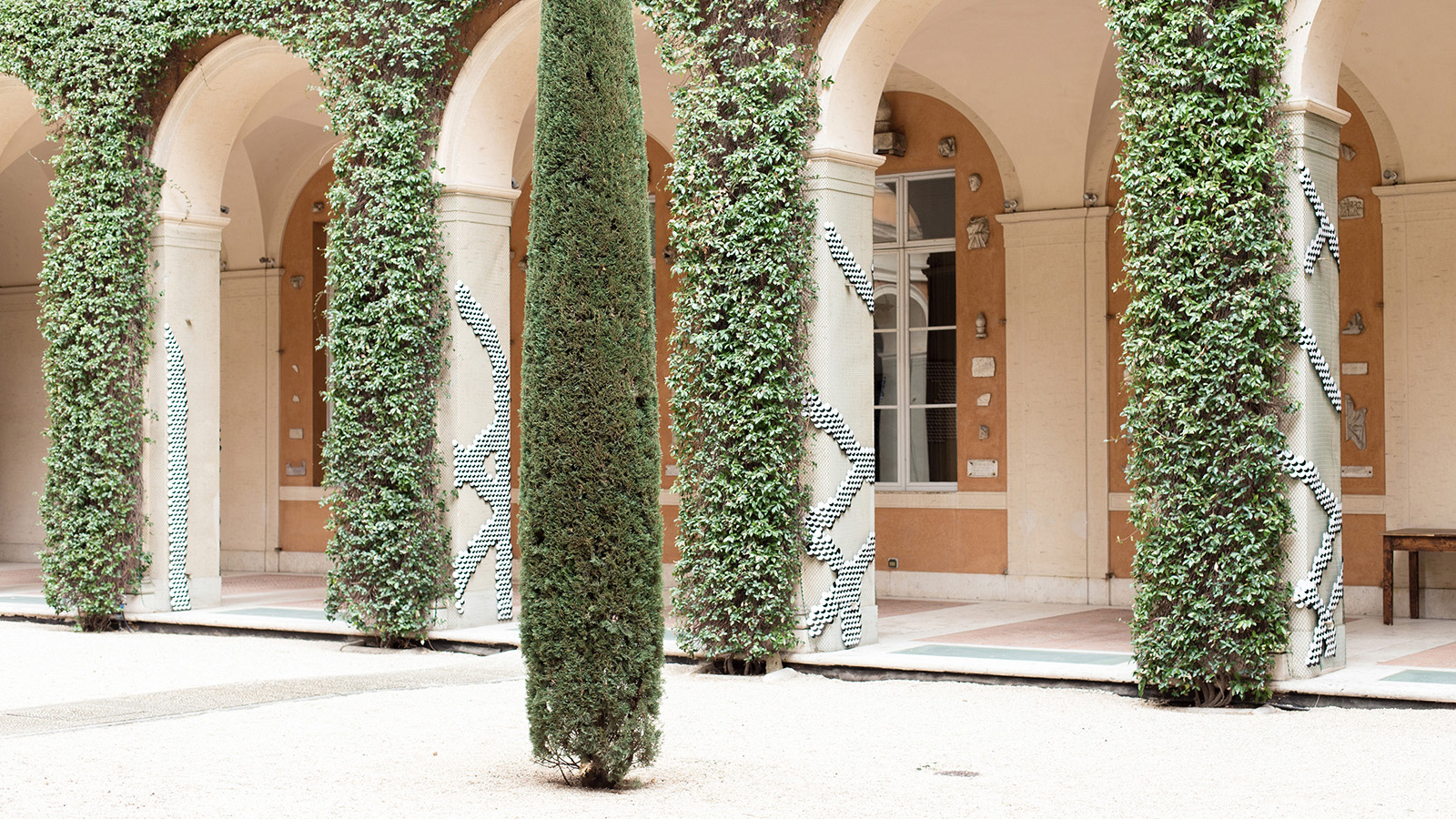 Overview
The American Academy in Rome is a leading American overseas center for independent studies and advanced research in the fine arts and humanities. Its campus is located on the Gianicolo (Janiculum Hill), with buildings designed by McKim, Mead & White, Michael Graves, and others.
The Academy is a place where extraordinary moments have brought gifted individuals together in unexpected ways. Yehudi Wyner, a 1953 Rome Prize winner in musical composition, said, "The Italian experience—which in the beginning lasted three years—was among the profoundest and most long lasting influences on my life in terms of an approach to life."
He described a party that occurred at Villa Aurelia in the spring of 1954: "I was just a kid and I was dazzled," he said. "I especially remember seeing Poulenc slouched in a chair with his head in his hands looking like a recently destroyed butterfly, I assumed that he was ashamed to be in the presence of Stravinsky. I wasn't going to miss my chance so I got up my nerve to introduce myself to the great maestro. I walked up to him and said something inane about what an honor it was to meet him. I put my hands on both of Stravinsky's arms, and he literally flexed his muscles to show me how strong he was. Then I was introduced to Salvador Dali. His mustache was waxed hard and the points at the end were a centimeter from the pupils of his eyes. I thought that he would have blinded himself if he had broken out in a grin."
The unique experience of Yehudi Wyner in 1954 is a snapshot of life at the American Academy amidst the glory that is Rome. Though life at the Academy has changed over the years as technology and globalization have altered our perspective, the monumental inspiration of Rome has not, thus it remains an essential element in the development of artists and scholars who come to the Academy.
Gjertrud Schnackenberg, a 1984 Fellow, eloquently observed: "For any artist from anywhere, to have arrived in Rome is to have arrived, at last, at the measure, the calibration, of total artistry, of sublime craftsmanship, of miraculous feats of engineering, vision, and invention. Rome is necessarily a summons, and an affirmation of the artist's most personal, overwhelming business, which is that of creating images worthy of being added to that fraction of time known, in Rome, as aeternitas."
But today, the American Academy, as it gazes out over the Eternal City from its setting high on the Janiculum, is a dynamic community intimately connected to the ongoing transition in the arts and humanities in Italy, Europe, and around the world. Today, with its painstakingly restored buildings and meticulously maintained gardens and grounds, a reminder of all that was and is Rome, the Academy, is a forward-moving, forward-thinking community of artists and scholars enlightened by, but not trapped in history, a modern intellectual community dedicated to preserving its past while linking that past to the demands and sensibilities of contemporary society.
The American Academy in Rome began as a collaborative effort in 1893 at the World's Columbian Exhibition when a small group, including architects Charles Follen McKim and Daniel Burnham, painters John LaFarge and Francis Millet, and sculptors Augustus Saint-Gaudens and Daniel Chester French, resolved to create a center to study art amid the classical tradition of ancient Rome. They chose Rome as the site of the Academy because, in their words, "with the architectural and sculptural monuments and mural paintings, its galleries filled with the chef d'oeuvres of every epoch, no other city offers such a field for study or an atmosphere so replete with precedents."
In 1894, McKim founded the American School of Architecture in Rome. He involved not only artists and architects but also the great financial geniuses of his time: J. P. Morgan, John D. Rockefeller Jr., and Henry Clay Frick, all contributing to McKim's enterprise. A year later, the Archaeological Institute of America established the American School of Classical Studies in Rome, and in 1911, the Board of Trustees voted to merge and the two schools became the American Academy in Rome as we know it today.
Times may have changed since the Academy's inception, but the collaboration that conceived of an American Academy in Rome then continues to this day and remains an integral part of the Academy's mission. Over the years, as the center of arts and culture has shifted from city to city, nation to nation, with various movements and schools of thought, the continued attraction of Rome and the Academy's contribution to the arts and humanities through its Rome Prize fellowships have remained constant.
The Rome Prize Fellowship supports up to thirty artists and scholars who live and work in a congenial atmosphere that breeds collaboration as well as individual achievement. Each year, artists and scholars working in the humanities (ancient studies, medieval studies, Renaissance and early modern studies, and modern Italian studies) and the arts (architecture, landscape architecture, design, historic preservation and conservation, literature, musical composition, and visual arts) are chosen by juries of experts in those fields. In addition to the Rome Prize Fellows, the Academy community includes Residents, Affiliated Fellows, Visiting Artists and Scholars, and, come June, members of academic summer programs. The Director invites a select number of Residents, persons of distinction in the fellowship fields, to join the Academy community for several weeks or months.
The community is close knit, and the atmosphere is one of sustained simplicity allowing for uninterrupted stretches of peaceful time for creative thought and scholarship. Meals, prepared under the Rome Sustainable Food Project, are taken in the main dining room in the colder months and outside in the Cortile during warm weather. This gives rise to a lively communal atmosphere that enhances the overall experience of Academy life, often leading to unexpected collaborative efforts that have reverberated throughout the world of arts and letters.
Young artists and scholars who have come to the Academy often find themselves inspired by those in residence who have already achieved a certain level of recognition in their professions, serving as mentors in a community that informs the creative process and pushes the bounds of arts and letters inexorably forward. For over a hundred years the Academy has been consistent in its mission, unfaltering, dedicated, and immensely proud of the contributions its Rome Prize Fellows have made in their fields and disciplines to the history of art and the humanities.