Every year we award the Anthony M. Clark Rome Prize in the discipline of Renaissance and early modern studies. But who was he? Anthony M. Clark (1923–1976) was an art historian, a museum professional, a connoisseur, and an AAR Resident in the last moments of his life. His taste for art produced in eighteenth-century Rome—and by the portraitist Pompeo Batoni in particular—had a profound impact on American collecting in the 1960s and 1970s. Clark's spiritual home was Rome, his passion was Roman art, and he died in Rome.
Born in Philadelphia, Clark was raised a Quaker and considered becoming a professional ornithologist, but eventually graduated from Harvard University in 1945 with a degree in fine arts. He spent ten years as a working artist, but as his interests became more scholarly, he was drawn to the world of museums, first working at the Rhode Island School of Design.
Clark held curatorial roles at the National Gallery of Art, the Minneapolis Institute of Arts (which he later led as director), and the Metropolitan Museum of Art. As the chairman of the Department of European Painting at the Met, he oversaw two major shows, Impressionism: A Centenary Exhibition and The Age of Revolution: French Painting, 1774–1830 (both 1974–75). Clark also taught at Williams College and New York University's Institute of Fine Arts.
Clark's Residency at the American Academy came to a tragic end. While jogging in the Villa Doria Pamphili Park, he suffered a heart attack to which he succumbed at the age of 53. He had been working on a manuscript on eighteenth-century Roman art, supported by a Guggenheim Fellowship.
Edgar Peters Bowron, Clark's friend and fellow art historian, was named the executor of Clark's scholarly papers. In the aftermath of Clark's death, AAR gave Bowron, then director of the Walters Art Museum, a grant so that he could complete Clark's two unfinished books. Art in Rome in the Eighteen Century and Pompeo Batoni: Complete Catalogue were published in 1981 and 1985, respectively.
With relatively little money, Clark had assembled a significant collection of eighteenth-century Italian art. Indeed, "there was not a single artist working in Rome between the pontificates of Pope Clement XI Albani and Pope Pius VI Braschi who was not represented in his personal anthology," reminisced his friend and colleague Alvar González-Palacios. Clark additionally collected Italian drawings, pottery, classical coins, and primitive art objects.
Clark's will provided that certain works of art be donated to a suitable museum, and that the balance of his estate be given to an appropriate tax-exempt institution without any restrictions. His executors designated the Philadelphia Museum of Art as the recipient of certain works of art in Clark's collection and named the Academy as residuary beneficiary. AAR consigned the eighty-four paintings it received to Christie's. Twenty works remained after the auction and were placed with individual galleries. The proceeds of this activity, coupled with a fundraising effort, endowed the Anthony M. Clark Rome Prize that we award to this day.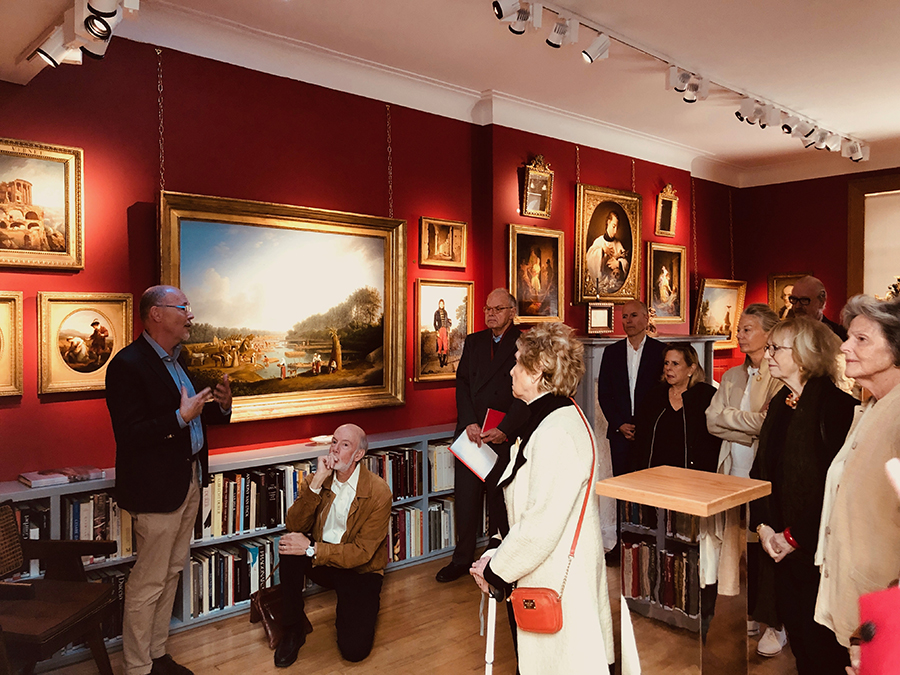 To mark the centenary of his birth, the gallery Nicholas Hall on the Upper East Side of New York organized the exhibition The Hub of the World (on view through November 30), gathering more than sixty works by artists who lived in or traveled to Rome during the 1700s. The exhibition also presents selections from Clark's personal notebooks, on loan from the National Gallery of Art Library in Washington, DC. Earlier this month, Nicholas Hall hosted AAR's Patrons group for a private viewing of the exhibition led by Jeffrey Collins (1997 Fellow), professor of art history and material culture at the Bard Graduate Center in New York.
The Academy is holding an Anthony Clark seminar on April 4, 2024, in collaboration with the Fondazione Federico Zeri, a prestigious institution for art history in Italy that is also connected to the Università degli Studi Bologna.