Visitors to the Academy in the 1960s probably heard strange sounds coming from the basement of the McKim, Mead & White Building. During his first Residency in 1958, the composer and professor Otto Luening, who helped found the Columbia-Princeton Electronic Music Center in New York, had ordered new cutting-edge equipment. Three years later, the Academy boasted three sine wave generators, a spring reverb unit, a microphone, two mono Ampex tape recorders, a radio/record player, and a mixing board. What had once been the composers' listening room became a full-blown studio for producing electronic music.
By the time Luening had returned for his second Residency in 1964–65, Rome Prize winners were taking full advantage of the studio. One early proponent was John Eaton (1962 Fellow, 1975 Resident), who arrived in Rome in 1959 and dove headfirst into the local music scene. He met the Italian audio engineer Paul Ketoff, who had built an early portable electronic music synthesizer that he called the Syn-Ket. Eaton recognized its value in live performances—not just in recordings. The two further developed the instrument, and by 1965 the Academy had their own Syn-Ket. (Eaton later worked with Robert Moog to develop another instrument, the Eaton-Moog Multi-Touch-Sensitive Keyboard.)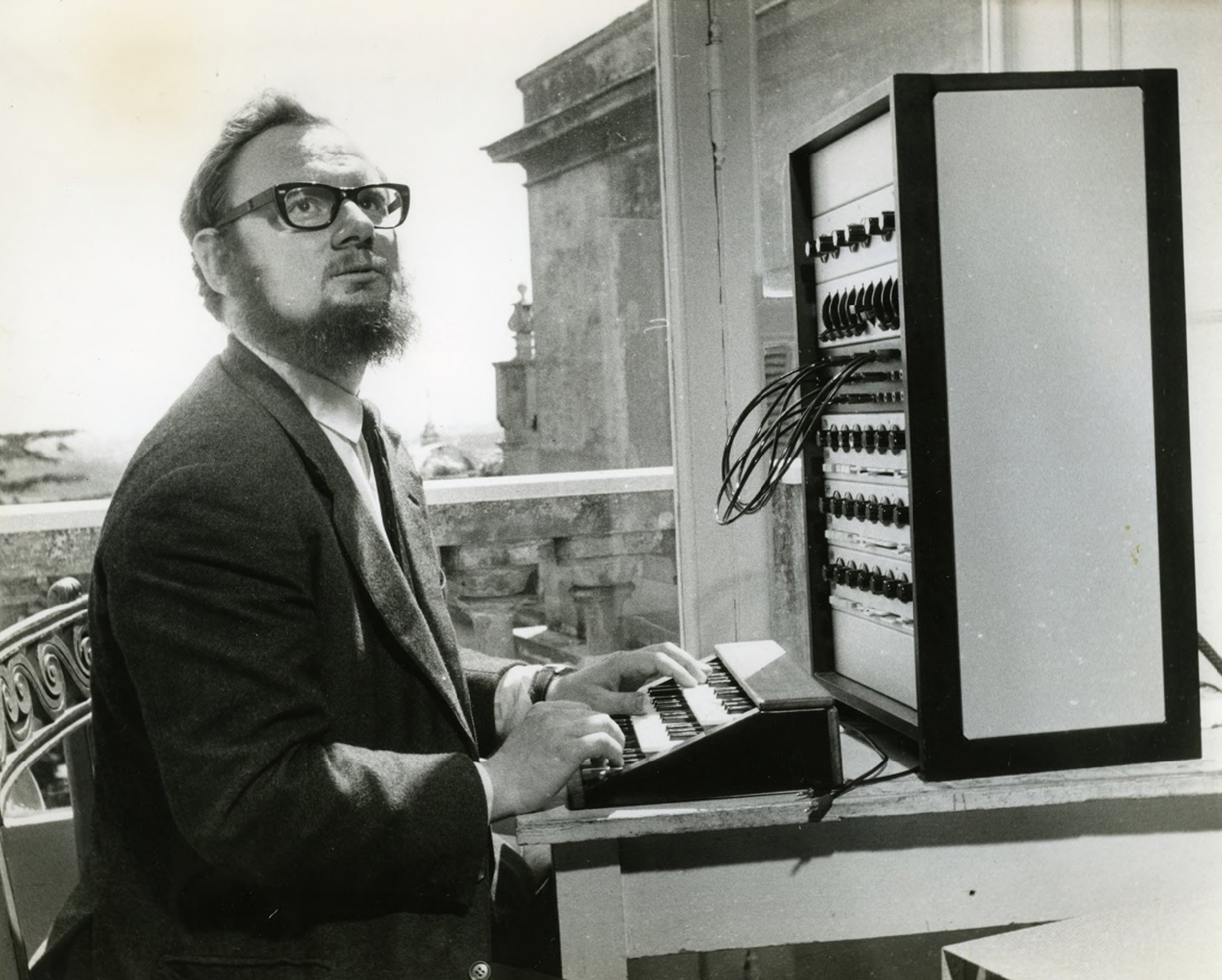 Luening organized a concert at the Villa Aurelia in June 1965 that was likely the first time a synthesizer was performed live (by Ketoff and Luening). The instrument and the studio attracted composers and musicians across Europe and America. Richard Trythall (1967 Fellow, 1971 Resident), who died last December, wrote Study for Synket and Tape Recorder (1966) at AAR. Eaton produced many pieces—including Concert Piece for Syn-Ket and Symphony Orchestra in 1966—that featured the instrument, which he often played in concert.
The studio was upgraded with new microphones, speakers, amplifiers, and tape recorders during the 1970s—all useful in documenting Academy concerts. But in the ensuing decades, composers had gone digital. Maintenance costs rose. Why maintain cumbersome equipment when everything can be done on a computer?
The Eternal City brings eternal return. Recent Fellows who have explored analogue-based electronics and synthesizers include Christopher Trapani (2017), Ashley Fure and Suzanne Farrin (2018), Michelle Lou (2019), Pamela Z (2020), Katherine Balch and William Dougherty (2021), and Tina Tallon (2022). The spirit of electronic music is very much alive at the Academy.