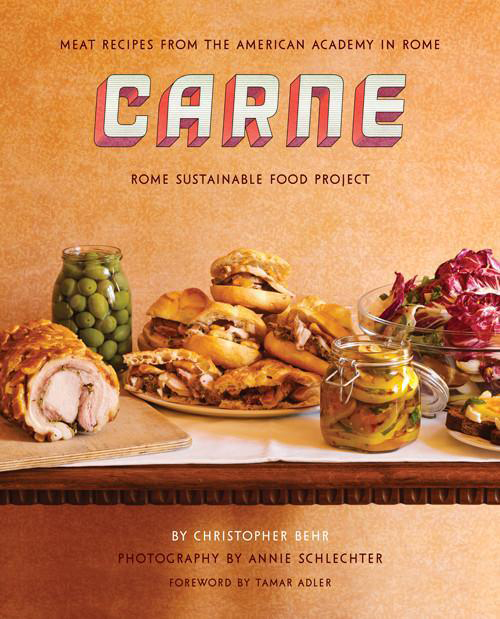 Carne: Meat Recipes from the American Academy in Rome
Little Bookroom
200 pages
At the American Academy in Rome, the Rome Sustainable Food Project's renowned farm-to-table meals are laden with vegetables and whole grains, and pastas, soups, and risottos that are almost all meatless. When meat is served, it is with a thoughtfulness and exuberance that provides a practical model for home cooks who aspire to nourish friends and family in the same spirit that the RSFP kitchen sustains its artists and scholars: with healthy and memorable food, sustainably sourced.
In Carne, Chef Christopher Behr shares more than sixty exceptionally delicious recipes that celebrate community and make a special occasion of any meal, including: iconic porchetta, adapted for the home kitchen; a spectacular meatloaf stuffed with provolone, prosciutto, and spinach; the traditional Roman summer stew of chicken, tomatoes, and bell peppers; beef stew with vegetables and preparations that vary with the seasons; pork spare ribs and sausages, with polenta in the starring role; as well as pâtés, meatballs, sausage, and more.
Chef Behr also includes an entire chapter of his favorite contorni, the fresh and bright vegetable side dishes and salads that pair especially well with meat, including roasted sweet-and-sour squash and red onions with quick-pickled raisins, a radicchio salad with green apple vinaigrette, and the potato recipe that has inspired generations of RSFP interns.