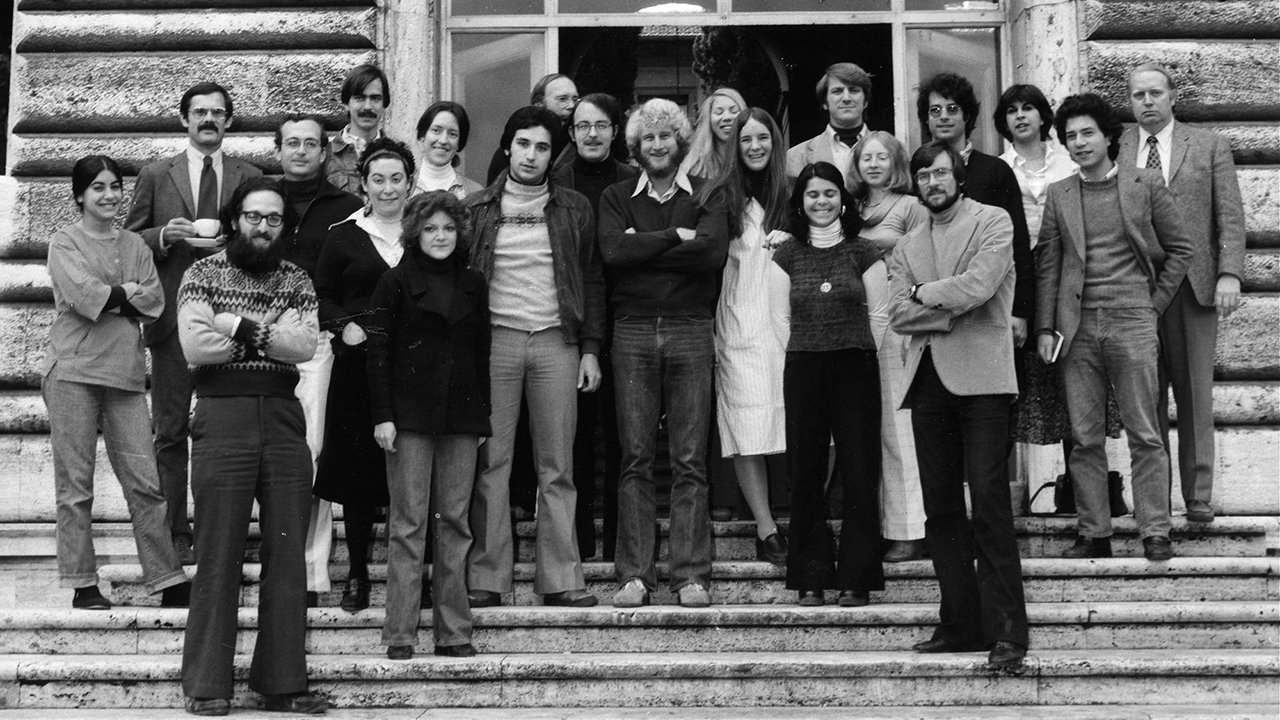 Overview
In 1910, the architect Lionel Moses approached William Rutherford Mead with the idea of forming a club for Rome Prize winners who had completed their residence at the Academy. Its purpose would be to maintain connections between Fellows, and advance the interests and well being of the Academy.
Mead expressed his approval in a letter of May 26, 1910, "The project to form a society of Roman Academy Alumni is commendable in every way, and I assure you that should the idea be carried out you may count upon my good will in every respect." Christened the Association of Alumni of the American Academy in Rome, or A.A.A.A.R., it was known colloquially as "the A's in R." At various times the organization has lain fallow but it has always regenerated itself, twice with a new name. In 1964 it became the Association of Fellows of the American Academy in Rome and in 1973 it became the Society of Fellows.
The A's in R was centered in New York City, where members met formally and informally. Architecture Fellows maintained a standing lunch reservation at the Peg Woffington Coffee House on 44th Street. Artists gathered for dinner every Friday night at Keen's Chop House, now Keen's Steak House, on West 36th near Sixth Avenue.
World War I almost resulted in the demise of the new organization, but it was reconstituted at a special meeting in New York where Lionel Moses was elected president, the painter George W. Breck (1899 Fellow and AAR director from 1906 to 1909) and the sculptor Paul Manship (1912 Fellow) vice presidents. The architect Walter Kirby was elected secretary-treasurer.
The group instituted The Alumni Newsletter, first published in May 1918 to keep in touch with Fellows in the military. Edited by Frank Fairbanks (1912 Fellow), it consisted of four typewritten pages and was issued two to four times a month. Production cost was $7.40 including postage. The light tone of these wartime newsletters contrasts with their content—farewells to those newly inducted, news from those at the front, and tales of monetary hardship and failing practices from those at home.
After the war the A's in R began meeting at the Century Club in New York. The membership was concerned with the predicament of newly returned Fellows, whose years abroad had resulted in the loss of professional connections, and resolved to foster them. In 1919 it was decided in consultation with Academy Trustees that the mission would include the following agenda:
Meet Fellows before they go to Rome
Watch them while in Rome
Meet them on their return
Offer free use of office, etc.
Get jobs for architects, painters and sculptors through Trustees watching for same and recommending
Assist returning Fellows obtain employment
Keep in touch with teaching jobs
It is uncertain exactly when Fellows of the School of Classical Studies, which had officially become part of the Academy in 1911, were first invited to join the association. A newsletter of March 15, 1921, states that new members included sixteen archaeologists, three architects, two painters, and two sculptors. Female scholars (all Fellows of the School of Fine Arts were male) were essentially token members because the Century Club did not admit women.
A gap in archival holdings results in a leap forward to 1948, just after WWII. That September, President Dale Badgely (1929 Fellow) held a dinner to welcome those returning from Rome and to greet those going over.
In July 1959, President Olindo Grossi (1936 Fellow) circulated a newsletter to Fellows stating that the officers, and council were earnestly attempting to revitalize the group. Innovations included the first-ever regional meetings, an annual meeting to coincide with the Philological and Archaeological meeting and the publication of a directory. Annual dues were $7.50. It was noted that the Wolf was in need of repair "you know where." The sculptor Gifford Proctor (1935 Fellow) volunteered to mend her.
The club was less active in the 1960s and early 1970s but was resurrected by Henry A. Millon (1960 Fellow, 1966 Resident), who christened it the "Society of Fellows," and Milton Lewine (1961 Fellow, 1973 Resident), who was elected president in 1973. Lewine became ill, and after he died in 1979 the society again became inactive. At about the same time, and without knowing of the existence of the Millon/Lewine group, Virginia Bush Suttman (1977 Fellow) spearheaded an effort to establish a new group. Eventually, the two were united and under Suttman's leadership evolved into the group that exists today.
In the mid-1980s the group undertook the monumental task of publishing the Centennial Directory, a biographical encyclopedia of all Fellows and Residents of the American Academy in Rome, in honor of the one hundredth birthday of the Academy. Edited by Benjamin Kohl (1971 Fellow) and Academy staff Wayne Linker and Buff Suzanne Kavelman, it was published in 1995 by Italica Press.
The Society currently has about nine hundred living members, including archaeologists, architects, classicists, artists, designers, historians, preservationists, conservators, composers, writers, art historians, critics, and curators. Many are leaders in their fields. All individuals who have been awarded the Rome Prize by the American Academy in Rome, hold fellowships from certain affiliated institutions, or serve as Residents become members at the completion of their time in Rome. A small pin in the shape of a rosette, designed by William Plumb (1986 Fellow), is presented to new members.