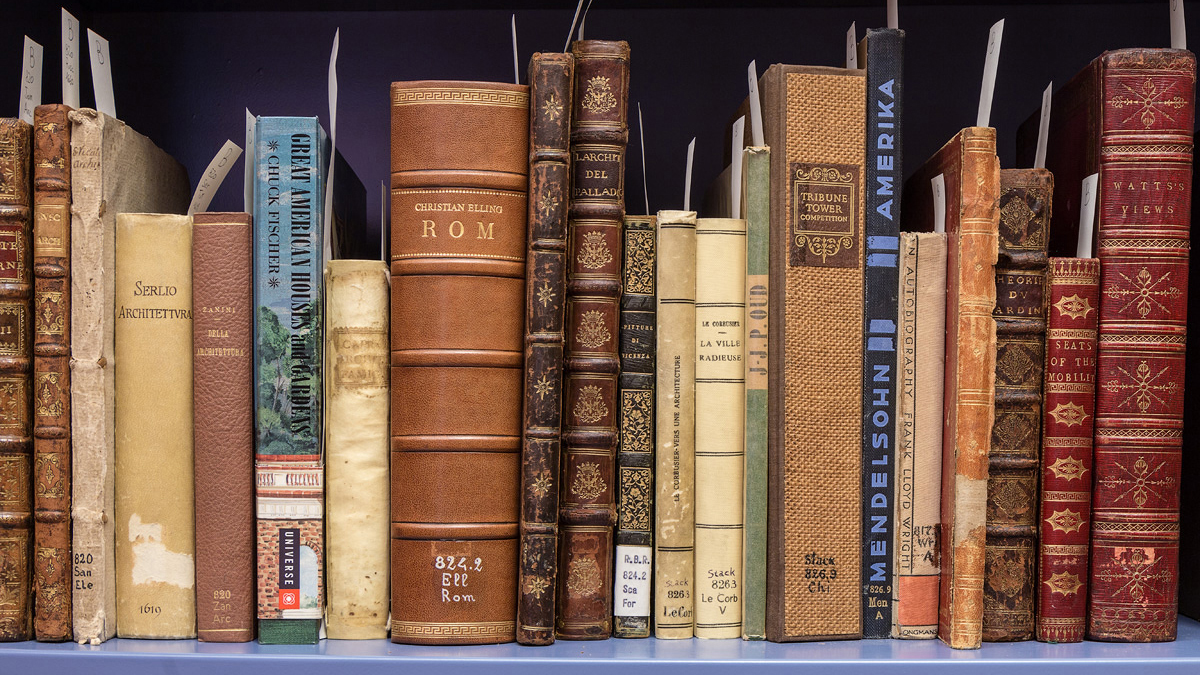 Overview
The rare book collection of the American Academy in Rome not only reflects the strengths of its parent Library but is also, in microcosm, a mirror of the interests and historical development of the Academy as a whole.
The Barbara Goldsmith Rare Book Room was dedicated on June 4, 1996. Its patron, Barbara Goldsmith, is a noted author, an advocate of paper and book preservation, and a Trustee of the American Academy in Rome. The architect Michael Graves (1962 Fellow, 1979 Resident) is also a Trustee of the Academy and a book lover. Their common goal was to create a state-of-the-art rare book room with controlled temperature and humidity, custom shelving, and appropriate housing material and lighting, all designed to enhance the life of the books. Trustee Robert S. Pirie contributed support for a conservation survey of all the books destined for the collection, and Barbara Goldsmith has supported the continuation of preservation treatments, an ongoing process.
In this room are above all printed books of the sixteenth to eighteenth centuries, although there are also several manuscripts and a selection of illustrated books of the nineteenth and twentieth centuries. They include early editions of Greek and Latin authors, early treatises on art and architecture, compendia of antiquities, and guidebooks to Rome and other Italian cities. There are also some pop-up books and artist's books. The collection of rare books has been developed during more than a century, through the generosity of many donors, chiefly American. Some of the most notable donors may be identified through bookplates or through provenance records.
The rare book collection can be said to have begun in 1904–5 when Mr. and Mrs. Edward Brandegee of Boston deposited approximately 1,800 books on Rome and the art and artists of Italy at the American School of Classical Studies in Rome then located in Villa Bonghi on Via Vicenza. In 1913 (1911) the American School of Classical Studies merged with the American Academy in Rome, and in 1914 its library moved to the Janiculum. The handsome new walnut-paneled library inspired Eleanor de G. Cuyler to endow two alcoves on the subject of ancient art in memory of her brother, Cornelius C. Cuyler; income from the endowment was used not only for current books but also for valuable older works of the eighteenth century and earlier.
Other donors of rare and/or valuable books include: Thomas Waldo Story, son of the sculptor William Wetmore Story; the artist Elihu Vedder; Thomas Spencer Jerome, US consular agent at Capri; J. P. Morgan (42 catalogues from his father's collections); the painter William H. Herriman; Lewis Einstein, US diplomat; Albert W. Van Buren, archaeologist and librarian; James Ackerman, architectural historian (1952 Fellow, 1975 Resident); Halsted Vander Poel, classical scholar; Eugene Berman, painter (1957 Resident); the musicologist Oliver Strunk; and AAR Trustee Robert Pirie. The most recent addition (1995) is a collection of thirty-four early guides to Rome, gift of Walker Hancock (1928 Fellow); eight volumes were bequeathed by Richard Krautheimer and some were bequeathed by Carmen Angleton and Ernest Hauser.
The rare books were shelved with other books on the same subjects until 1964–65, when a cage was constructed for the most valuable volumes, including eighty-four rare books donated by Lewis Einstein. This was considered a temporary measure until a new wood-paneled room could be built, and no provisions were made for climate control. By 1980 the cage area was full of large folios piled on the table originally designated for readers.
The master plan (1991) by Studio Einaudi for the renovation of the McKim, Mead & White Building revived the plan for a new Rare Book Room. Through the generosity of Barbara Goldsmith and the architectural vision of Michael Graves, this dream has finally been realized. The Barbara Goldsmith Rare Book Room provides an elegant home for precious volumes, while meeting all current technical standards for their preservation.
The room has been enriched with some works of art: a bust of Barbara Goldsmith by the sculptor Lewis Iselin, a Cypro-Archaic amphora (bi-chrome IV ware, 7th ca. BCE., from Larnaca, Cyprus), the head of an old man from a grave relief (Augustan, said to be from Rome, of white marble) and a portrait bust of Hermarchus (or Metrodorus?), a Roman copy of a Greek original of ca. 270 BCE.
The room is open for two hours each afternoon (Monday–Friday) and provides consultation space for up to six readers at a time; about one hundred people visit the room every year and more than two hundred use the room as readers. The rare book collection includes 2,350 volumes; 143 volumes are from the sixteenth century. Of the ca. 220 guidebooks of Rome, 120 are in a small format, usually 12 x 19 cm and may thus be considered pocket guides used by pilgrims as they wandered through the streets of Rome, each in search of his or her personal vision of this exceptional city.
Valuable Books
Among the most valuable books are:
Vitruvius. De Architectura (Como), 1521.
Serlio, Sebastiano. Regole generali di architettura. Venetia, 1540.
Biondo, Flavio. Roma ristaurata. Venetia, 1543.
Gamucci, Bernardo. Le antichità della città di Roma. Vinegia, 1569.
Caesar,Gaius Iulius. Commentarii C.I. Caesaris de bello Gallico. Basilea, 1591.
Felini, Pietro Martire. Trattato dell'alma città di Roma. Roma, 1625.
Petronius Arbiter. Satiricon. Francofurti, 1643.
Galilei, Galileo. Sidereus Nuncius. Londini, 1653.
Falda, G. Battista. Li giardini di Roma. Roma, 1680.
Limborch, P. van. Historia Inquisitionis. Amstelodami, 1692.
Bartoli, P. Santi. Admiranda Romanarum Antiquitatum. Roma, 1693 (notis Io Petri Bellorii illustrata).
Palladio, Andrea. L'Architettura. Venezia, 1711.
Vasi, Giuseppe. Delle magnificenze di Roma. Roma, 1761.
Piranesi, G. Battista. Campus Martius antiquae urbis. Roma, 1762.
Repton, Humphry. Fragments of landscape gardening. London, 1816.
Vedder, Elihu. The disgressions of V. Boston, 1910.
Esposizione Universale di Roma. Livorno, 1939.
Illuminated book of hours, use of Rome, from Bologna. Mss. (R.B.R.146.3.Flo). The Calendar includes, among its major saints' days written in red, the feast of S. Petronius, patron of Bologna. The coat of arms on the opening folio includes the Anjou heraldic charge, which also appears on the arms of the city.
Original parchment binding. Fore-edge decoration.
Book-plate of prince M. A. Borghese.
Bequest of William H. Herriman, 1920–21.
A digital copy is available:
Book of Hours, AAR Manuscript, end paper, exlibris, double door, fol. 1–24, incipit begins fol. 25–42.
Book of Hours, fol. 46–91.
Book of Hours, fol. 92–141.
Book of Hours, fol. 142–190.
Book of Hours, fol. 191–238.
Book of Hours, fol. 239–278.
Ff. i + 138 - Limp vellum binding with evidence of two fore edge ties; edges of the book block painted in a simple manner with a floral design. On the back cover, a contemporary (or at least early) note, "derr.o." - Coat of arms in the lower margin of f. 13: or, 2 bezants gules, a bend gules, 1 bezant azur, and in chief azur, 3 fleur de lys or. On the front pastedown, an armorial bookplate, "Ex libris M. A. Principis Burghesii" with the Borghese arms. On f. i, the accession number of the American Academy, "49086" leading to the information that the book was accessioned on 17 August 1942 [tempore belli!] with the note that it was already in the library; it may have been part of the bequest of Herriman in 1920. On the back pastedown in pencil in a modern European hand, "Regist. Carte 137 / V.P.P. / 14½ x 10," and in ink in a fifteenth-century hand, "Onurte," twice, as if a pentrial. Contains: ff. 1–12v, calendar with Petronius in red on 4 October; ff. 13–74v, Hours of the Virgin "secundum consuetudinem Romane curie" ending with the changed office at matins for weekly and yearly differences; ff 75-113v, Office of the Dead, use of Rome, beginning and ending defectively; ff. 114–133, Penitential psalms (beginning defectively) and litany, including Petronius as the eighth of eight bishops and confessors; ff. 133–136, Short Office of the Cross; ff. 136–138v, Short Office of the Holy Spirit.
Leaf from the Llangattock breviary. Illuminated manuscript.
F. 1 - Unbound. - From the codex made for Leonello d'Este. Brought to Wales as war booty by 1813, already in a damaged state, by the Rolls family, later enobled as Barons Llangattock, of The Hendre, Monmouth (Llangattock sale, London, Christie's, 8 December 1958, lot 190); purchased in 1958 by Goodspeed's of Boston and dismantled by them. This leaf purchased by AAR Trustee Robert S. Pirie from Goodspeed's and donated by him to the American Academy (a second leaf, purchased at the same time, was a gift of Mr. Pirie to the Abbot of Meteora in Greece). Produced, according to archival records, between 1441 and 1448. See F. Toniolo, "Il lungo viaggio del Breviario di Lionello d'Este tra le due sponde dell'Atlantico," in Medioevo: arte e storia, Atti del Convegno internazionale di studi, Parma, 18–22 settembre 2007, ed. A. C. Quintavalle (Università di Parma e Mondatori Electa, Milan 2008), 564–77, this leaf is not mentioned. Latin. Vers., Loquebantur variis linguis apostoli magnalia dei. Et convenit. Lectio tertia//Beginning of the office for Pentecost, opening with the end of the hymn for first vespers [i.e., Venit creator spiritus], up until the rubric for the third lesson of first nocturns at matins.